The Heritage Centre
The Heritage Centre opened in 2004 and is housed in part of a Victorian school dating back to 1837. Extensively restored as a museum to blend with the village's Conservation Area status, the Heritage Centre is now a major attraction in Tarves and the surrounding area.
Just inside the entrance there is a small reception area with seating. This is a popular spot for visitors to have a rest and for some to reminisce about days gone by!
The Corbett Room
The Corbett Room houses changing displays on various themes relevant to the local area: farming and domestic life, shops and local trades, school, Kirk and history of the area. An extensive archive of photographs can be viewed by visitors, along with an ever growing collection of newspaper cuttings and articles.
A very important item which has pride of place in the Collection is a Bronze Age sword that was found locally. It is displayed along with a selection of other Bronze and Stone Age artefacts.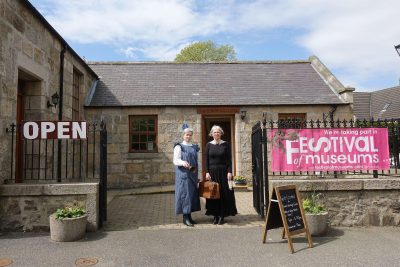 Teachers