What's On Offer for School Visits
School groups can experience a Victorian school day using role-play and costumes. A teacher's pack is available which has a suggested scenario for teachers to follow. Lessons are suggested but any appropriate subject matter could be used. The important point is to make the experience as real as possible for the class so that they can become immersed in another time and place.
To book, please call 01651 851883 or download the Booking Form for Schools
Suggested Visit Outline
An introduction to the Museum and a talk to the children by one of the School's Programme volunteers. (15 mins.)
"Hands-on" a chance to hold and feel some real Victorian objects. (10 mins.)
The children can have a break at this stage and get ready for the role-play. (15 mins.)
Victorian Schoolroom Role-play
Entrance and seating (5mins.)
Register and hand and shoe inspection (10 mins.)
Prayer, hymn, Bible reading and moral homily (10 mins.)
Chanting of tables (5 mins.)
Money lesson and sums from the board to be written on slates (10 mins.)
Spellings chanted (5mins.)
Writing practice - a suitable moral homily or proverb (15 mins.)
Drill (5mins.)
Geography - imports and exports - Britain and the British Empire (10 mins.)
Object lesson the potato ( 5 mins.)
Preparation for an Inspector's visit (or visit if Inspector present) (5 mins.)
Awarding of certificates (5 mins.)
Prayer.
(At the end of the role-play it may be appropriate to set up a few "scenes" for photographs and time permitting, a debriefing should involve the children in sharing their feelings and impressions of schooling at that time.)
Costumes
Costumes are available for female teachers and assistants however to ensure a good fit we would suggest that you wear your own if possible - a dark coloured long skirt and a high necked blouse - male staff should dress in a black suit with waistcoat and a white wing collared shirt. Children should be encouraged to dress in an appropriate manner e.g. with 3/4 length skirts and white high necked blouses ; or long trousers tucked into socks and a grandad shirt. Waistcoats and aprons are available at the centre to finish this off authentically.

"Thanks again for a wonderful trip, the children haven't stopped talking about it!" St Fergus Primary

"It was really funny when Miss McGibbon turned into a really loud and really strict Victorian Teacher" Brandon, Kaimhill Primary School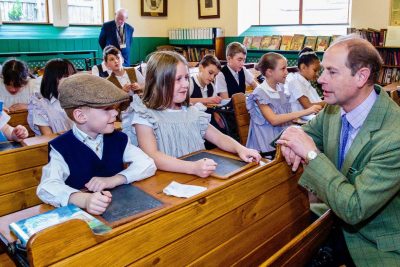 Victorianclassroom